A new back-to-school worry for Chicago Public Schools parents: COVID's raging Delta variant
Some cautiously optimistic, others fearing the worst, parents are preparing for the return Monday of full in-person learning at Chicago's schools.
Ami Barry and her daughter Kennedy were battling COVID-19 earlier this month after being exposed to the virus at a family gathering in Chicago.
Now recovered, Kennedy, 10, goes back to school Monday as a fifth-grader at McDade Elementary School in Chatham.
It's a day she's been looking forward to. Her mom's excited, too, though she hopes her still-unvaccinated daughter will be able to avoid being infected again.
"I'm just praying for a safe school year," Barry said.
Naoma Nagahawatte isn't as happy about sending her 8-year-old son Oliver back to school. Nagahawatte, advocacy director for the parent activist group Raise Your Hand, thinks the Chicago Public Schools should continue to offer the option of remote learning. She questions CPS's health and safety plans, which include masking, optional testing for the virus and minimal social distancing.
"We are uncomfortable with the lack of guarantees CPS has put in place," Nagahawatte said. "It doesn't foster confidence."
From cautious optimism to fears for the worst, parents are preparing for the return Monday of full in-person learning at Chicago's schools.
"They're right to be concerned," said José Torres, CPS's interim chief executive officer, though he also assured parents the school system's efforts to keep kids safe from the virus will be effective.
CPS's reopening at full capacity comes amid a new COVID surge fueled by the highly contagious version of the virus known as the Delta variant. Though the recent rise in the number of coronavirus cases doesn't compare with previous larger waves, thousands of school-age children in Chicago and across Illinois have been infected. And this latest wave of the coronavirus shows no sign of slowing.
Mayor Lori Lightfoot's decision to return public school students to classrooms last spring was made before the recent explosion of the Delta variant, which is soaring across the country.
CPS officials have said there were few cases of known in-school transmission of COVID-19 when some students returned to classrooms last winter and spring. That was before the Delta variant spread, though. And only about 25% of CPS students were in the classroom then.
Since the beginning of June, just before Lightfoot announced Chicago's full reopening and state health officials identified early Delta cases, there have been more than 2,400 new infections, 43 hospitalizations and two deaths reported among children 17 and younger in the city. The number of cases reported continues to rise, with infections statewide rapidly escalating among kids 5 to 17 years old.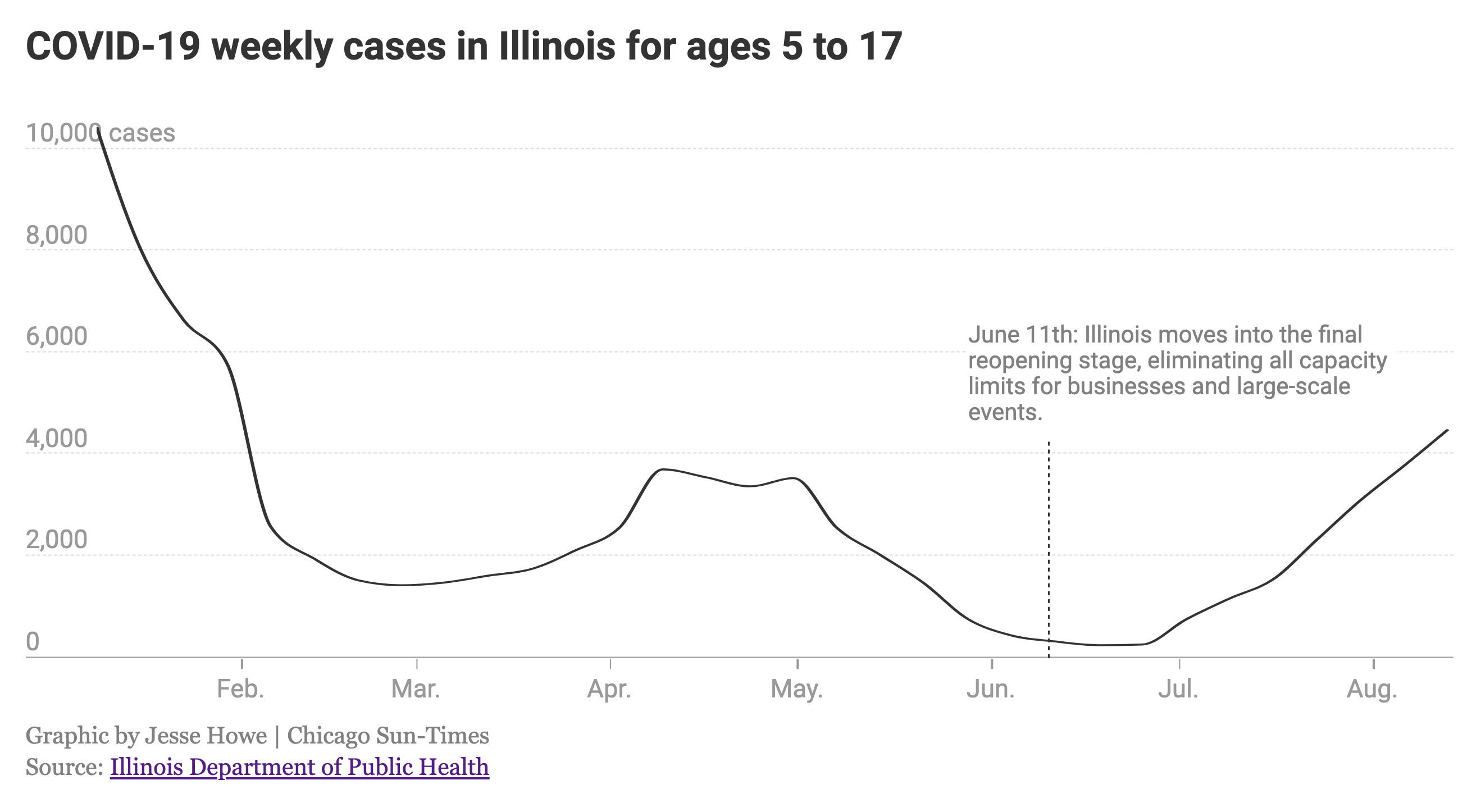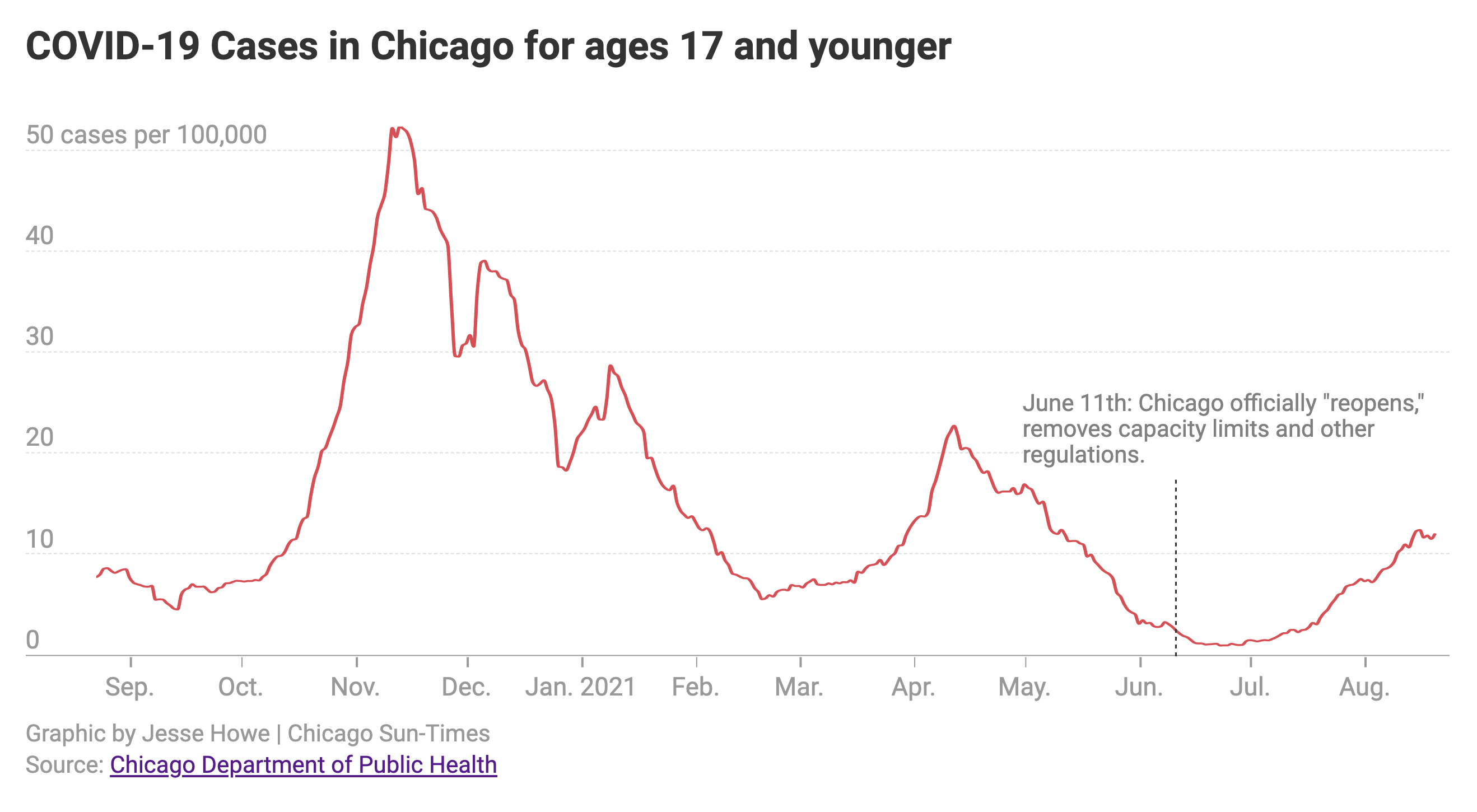 Even though anyone 12 and older is eligible under federal guidelines to be vaccinated, older school-age children are seeing a similar rise in COVID — up about 90% since June.
By mid-August, the number of COVID infections among kids 5 to 11 years old statewide was nearly 2,200 a week, compared with 200 in early June, just before state health officials first saw a smattering of Delta cases. The variant now accounts for almost all COVID infections, health officials say.
The rising numbers have Nagahawatte worried even as her son is eager to see his friends again at Skinner West Elementary School in the West Loop. She says Oliver was infected at summer camp despite following numerous health guidelines, including masking and social distancing.
A petition by Raise Your Hand urging the Illinois State Board of Education and school districts to offer a remote learning option has been signed by more than 5,000 people, Nagahawatte said.
Among its safety guidelines, CPS employees and volunteers are required to get fully vaccinated by Oct. 15 — a month and a half after school begins.
Other than student athletes, there are no vaccination requirements for students and no required testing.
Students and school staff members are required to wear masks unless they are outdoors or three feet away from others.
This past week, CPS rolled back some safety measures, saying students' temperatures won't be taken before class and parents won't be required to complete a daily COVID screening checklist.
Dr. Howard Ehrman, a community activist and former city health official who is an assistant professor at the University of Illinois College of Medicine, said Chicago lags behind other big-city school districts for COVID safety. The Los Angeles school system is requiring testing of all students, teachers and staff. Without stronger safeguards, Ehrman predicts, Chicago's schools are likely to be shut down again by the end of September as the virus spreads.
Ehrman cofounded a group last year called the People's Response Network to COVID-19. It has called for a remote learning option, mandatory vaccinations for all eligible students and school staff members, greater social distancing and mandatory, rather than optional, testing.
Asked about more stringent requirements for testing in other parts of the country, including Los Angeles, a CPS spokeswoman said, "We're offering all staff and students testing once per week. That's our current plan."
Many doctors support reopening schools as long as strict safety measures are in place but acknowledge the possibility there will be a bigger rise in the number of coronavirus infections this fall and winter with kids back in the classroom full time.
Already, the number of cases among children in Chicago is higher this year than it was at this point last year before the bigger wave of infections hit in late 2020.
In the past two weeks, Dr. Colleen Nash, a Rush University Medical Center pediatrician who specializes in infectious diseases, has seen an increase in the number of COVID cases that has her concerned that fall and winter could produce a bigger surge, like what happened last year.
"What's on my mind is fall going into winter and what that is going to look like," Nash said.
She and other doctors also are concerned about the prospect that more COVID cases also could bring more of the follow-on illness called multisystem inflammatory syndrome, a rare but very serious condition.
City officials are hopeful the number of overall COVID cases won't hit the levels seen earlier this year or late last year.
"I am not expecting at this point to see anything like what we saw in November and December," Dr. Allison Arwady, Chicago's public health commissioner, said recently, noting that vaccines are helping to reduce caseloads among adults.
But she also said, "I have been alarmed by how quickly Delta has spread."
Arwady has said she knows COVID will spread with kids being back in the classroom.
"We're going to see quarantines," she said. "There will be cases for sure in schools."
In low-vaccinated parts of the city, particularly Chicago's majority Black and Latino neighborhoods, the risk of infection is substantial.
"It's about preparation, especially those kids coming from less-vaccinated, higher-risk ZIP codes," Nash said of the challenges schools in high-risk communities are facing. "It's our job to protect those kids like any other kids but by being even more vigilant."
Some community organizations, such as Ehrman's group, say CPS needs to recognize children in some parts of the city are far more vulnerable to COVID, especially in neighborhoods with very low vaccination rates.
In Chicago, 45% of 12- to 17-year-olds are vaccinated. And Black and Latino residents overall lag behind whites for getting shots — a concern for CPS because more than 80% of its 340,000 students are Black or Latino.
The decision to send kids back to the classroom generally has won support from doctors, recognizing that kids are falling behind in their education and can face social and mental strains from the isolation of remote learning.
"Schools' hands are tied to a certain extent because they have to have in-person learning," said Dr. Taylor Heald-Sargent, a pediatrician at Ann & Robert H. Lurie Children's Hospital.
But Heald-Sargent also said, "If COVID pediatric cases continue to rise, I'm worried children's hospitals will become full."
About 130 doctors in a survey taken by advocacy organization, Illinois Medical Professionals Action Collaborative Team, this July rated in-person school as a low-risk activity as long as masks are worn and social distancing is enforced. Lacking either of those safeguards, it becomes a medium to high-risk endeavor, the doctors said.
"We really have to make sure every kid in every school gets the same protection," said Dr. Eve Bloomgarden, a co-founder of the organization.
After being tested by a clinic run by Esperanza Health Centers, Cynthia Champs and her 12-year-old daughter Courtney, who's about to start sixth grade at Tarkington Elementary in Chicago Lawn, recently got vaccinated at a Walgreen's.
Last December, Courtney and three of her siblings all were infected with COVID. So was Champs, who said she was much sicker than her kids and lost her sense of smell and taste for a short time.
Two of Courtney's siblings are too young to be vaccinated. Two older ones, both in high school, did get vaccinated.
Trusting that Courtney and her brothers and sisters are now wiser about COVID, Champs said she's not only ready for her kids to be back in school, she's "tickled pink" about it.
Contributing: Jesse Howe, Andy Boyle, Nader Issa
Brett Chase's reporting on the environment and public health is made possible by a grant from The Chicago Community Trust.