When the COVID pandemic hit, Illinois sales tax revenues plunged in one place worst of all
A single Chicago ZIP code renowned as a lure for tourists and shoppers accounted for the state's most dramatic plunge in sales tax collections, a Sun-Times analysis shows.
After Illinois shut down last March to slow the spread of COVID-19, businesses closed, people stayed home, and sales tax revenues that governments rely on plummeted — and nowhere more dramatically than in one small but extremely high-profile part of Chicago:
The 60611 ZIP code that takes in the Magnificent Mile shopping district of North Michigan Avenue and Navy Pier, one of the state's biggest tourist magnets.
That ZIP code accounted for the state's most dramatic plunge in sales tax collections, a Chicago Sun-Times analysis of state tax revenues shows — a $68 million drop in those taxes that Illinois collected from the city compared to a year earlier. That's about one-quarter of the city's $290 million portion of those sales tax losses.
Also hard hit, though on a smaller scale, were other places that rely on retail sales and tourism to fund municipal services, including mall-dependent towns like Schaumburg, Rosemont and Skokie and the Chicago ZIP codes that take in the Loop and O'Hare Airport, the Sun-Times analysis found.
"Where you see the big drops, those are large tourism areas, and we know tourism was significantly impacted, so you see your big drops match where you'd see a big piece of tourism," says Ben Dieterich, deputy budget director for the city of Chicago.
"If you're seeing increases, people were staying home and not venturing far from home to make purchases," Dieterich says.
In Chicago, for instance, that resulted in more collected from sales tax last year than in 2019 in South Side neighborhoods Roseland, South Shore and West Englewood as well as in parts of the Northwest Side. The same held true for Calumet City.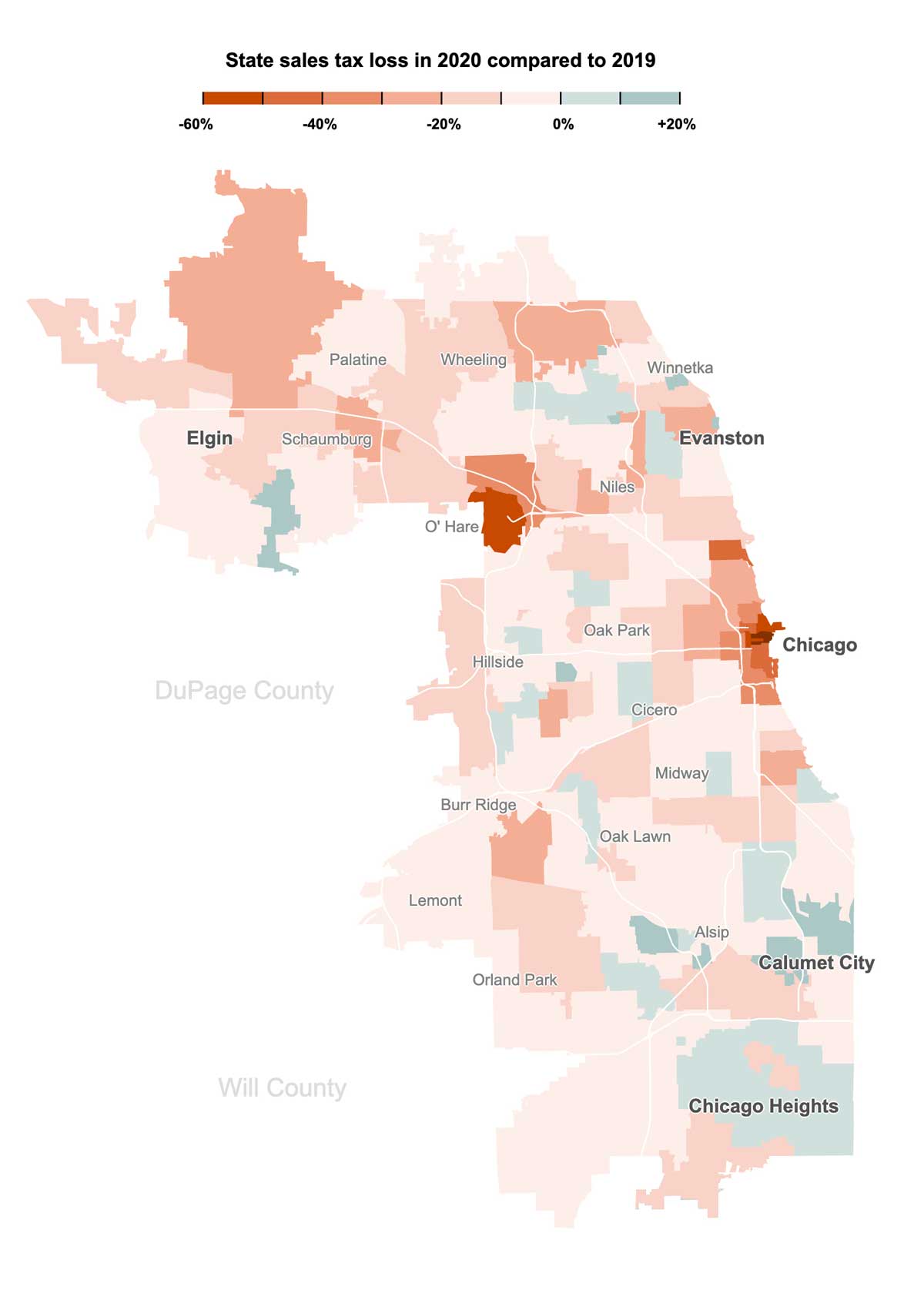 State sales tax loss in 2020 compared to 2019
Graphic by Jesse Howe | Sun-Times
Source: Illinois Department of Revenue
Overall in Illinois during the worst of the pandemic, the state's share of sales tax revenue dropped by at least $675 million, according to the state Department of Revenue. That includes the 5% sales tax the state keeps of the 6.25% collected on most purchases.
Of the rest, 1% goes to the city and 0.25% to the county in which the tax is collected. In Chicago, the 0.25% goes to the Regional Transportation Authority instead of to Cook County. Additional local taxes also might be added, though none of those figures were available from state revenue officials.
In an email, Alexis Sturm, director of the Governor's Office of Management and Budget, points to similar shortfalls in other states.
"Every state in the nation saw tremendous drops in revenue when the pandemic hit, placing enormous stress on our social safety net programs just when they were needed most," Sturm wrote.
Sturm also points out that, to make up for some of the losses and to keep state-funded programs going for such essentials as housing, health care and food, the state borrowed from the federal government.
In Schaumburg, the cut of the 10% sales tax rate that consumers pay there typically tops $52 million a year that goes to the village government, which also takes in another $13 million in taxes on hotels and restaurants.
But that figure dropped by $22 million, which prompted Schaumburg to freeze hiring, shut down an arts center and lay off employees in addition to cutting budgets across the board, according to village spokeswoman Allison Albrecht.
With its budget year starting May 1, "the writing was on the wall with the shutdown starting last March," Albrecht says. "We rewrote our entire budget based on the fact that we had anticipated potential losses in revenues that were going to be tied to the local economy, sales taxes, food and beverage."
---
State of Illinois Sales Tax in Cook County
| ZIP code | 2019 Total | 2020 Total | Year-over-year Increase or Decrease | Percentage Increase or Decrease |
| --- | --- | --- | --- | --- |
| 60603 | $23,857,627.05 | $8,669,810.90 | -$15,187,816.15 | -63.66% |
| 60601 | $28,428,704.44 | $10,835,079.53 | -$17,593,624.91 | -61.89% |
| 60606 | $20,010,180.76 | $9,112,873.56 | -$10,897,307.20 | -54.46% |
| 60602 | $17,821,709.42 | $8,254,046.31 | -$9,567,663.11 | -53.69% |
| 60611 | $134,857,383.12 | $66,645,322.94 | -$68,212,060.18 | -50.58% |
| 60666 | $14,053,527.55 | $6,947,714.81 | -$7,105,812.74 | -50.56% |
| 60605 | $20,755,058.91 | $11,438,217.83 | -$9,316,841.08 | -44.89% |
| 60604 | $5,605,338.89 | $3,110,325.95 | -$2,495,012.94 | -44.51% |
| 60654 | $38,101,918.28 | $21,587,078.03 | -$16,514,840.25 | -43.34% |
| 60613 | $19,177,835.16 | $10,968,246.39 | -$8,209,588.77 | -42.81% |
| 60661 | $13,117,005.84 | $7,966,246.77 | -$5,150,759.07 | -39.27% |
| 60610 | $43,010,440.39 | $27,210,491.16 | -$15,799,949.23 | -36.74% |
| 60018 | $55,226,849.41 | $35,530,629.93 | -$19,696,219.48 | -35.66% |
| 60616 | $25,830,416.83 | $16,790,670.25 | -$9,039,746.58 | -35.00% |
| 60607 | $47,774,283.32 | $32,460,814.99 | -$15,313,468.33 | -32.05% |
| 60077 | $40,989,536.02 | $28,839,984.36 | -$12,149,551.66 | -29.64% |
| 60173 | $76,058,710.68 | $53,747,892.86 | -$22,310,817.82 | -29.33% |
| 60203 | $847,664.48 | $600,528.42 | -$247,136.06 | -29.15% |
| 60637 | $5,153,526.99 | $3,652,633.49 | -$1,500,893.50 | -29.12% |
| 60201 | $13,277,077.36 | $9,652,613.39 | -$3,624,463.97 | -27.30% |
| 60612 | $13,934,565.29 | $10,272,055.54 | -$3,662,509.75 | -26.28% |
| 60622 | $43,608,835.27 | $33,302,951.23 | -$10,305,884.04 | -23.63% |
| 60062 | $34,911,216.41 | $26,806,316.71 | -$8,104,899.70 | -23.22% |
| 60301 | $4,711,432.23 | $3,621,189.58 | -$1,090,242.65 | -23.14% |
| 60010 | $23,065,704.65 | $17,729,862.48 | -$5,335,842.17 | -23.13% |
| 60657 | $32,867,067.08 | $25,295,596.75 | -$7,571,470.33 | -23.04% |
| 60631 | $5,705,972.80 | $4,465,713.19 | -$1,240,259.61 | -21.74% |
| 60513 | $3,448,937.80 | $2,700,926.50 | -$748,011.30 | -21.69% |
| 60480 | $1,037,698.59 | $814,622.88 | -$223,075.71 | -21.50% |
| 60642 | $15,707,573.26 | $12,398,692.20 | -$3,308,881.06 | -21.07% |
| 60614 | $53,401,104.79 | $42,508,050.44 | -$10,893,054.35 | -20.40% |
| 60090 | $18,975,869.78 | $15,218,410.51 | -$3,757,459.27 | -19.80% |
| 60165 | $1,612,914.71 | $1,297,898.48 | -$315,016.23 | -19.53% |
| 60195 | $7,626,456.18 | $6,196,243.41 | -$1,430,212.77 | -18.75% |
| 60305 | $4,222,317.17 | $3,432,100.18 | -$790,216.99 | -18.72% |
| 60660 | $7,970,276.76 | $6,552,537.70 | -$1,417,739.06 | -17.79% |
| 60640 | $19,470,487.32 | $16,025,822.98 | -$3,444,664.34 | -17.69% |
| 60426 | $5,332,890.43 | $4,411,351.55 | -$921,538.88 | -17.28% |
| 60706 | $22,212,074.30 | $18,385,771.60 | -$3,826,302.70 | -17.23% |
| 60118 | $12,921,120.23 | $10,730,357.01 | -$2,190,763.22 | -16.95% |
| 60415 | $23,057,012.18 | $19,198,042.82 | -$3,858,969.36 | -16.74% |
| 60638 | $31,121,675.07 | $25,916,715.55 | -$5,204,959.52 | -16.72% |
| 60625 | $10,912,965.42 | $9,092,325.71 | -$1,820,639.71 | -16.68% |
| 60619 | $9,614,545.26 | $8,033,885.17 | -$1,580,660.09 | -16.44% |
| 60475 | $2,086,741.35 | $1,745,199.00 | -$341,542.35 | -16.37% |
| 60425 | $2,020,102.66 | $1,696,290.07 | -$323,812.59 | -16.03% |
| 60022 | $3,310,085.68 | $2,799,265.31 | -$510,820.37 | -15.43% |
| 60466 | $2,261,034.10 | $1,912,579.98 | -$348,454.12 | -15.41% |
| 60473 | $7,606,008.78 | $6,441,444.96 | -$1,164,563.82 | -15.31% |
| 60501 | $5,218,478.02 | $4,443,095.83 | -$775,382.19 | -14.86% |
| 60464 | $2,361,188.73 | $2,010,803.41 | -$350,385.32 | -14.84% |
| 60634 | $12,069,047.16 | $10,297,146.32 | -$1,771,900.84 | -14.68% |
| 60462 | $53,382,240.47 | $45,831,247.41 | -$7,550,993.06 | -14.15% |
| 60169 | $6,697,448.68 | $5,760,761.45 | -$936,687.23 | -13.99% |
| 60647 | $41,329,981.10 | $35,584,537.85 | -$5,745,443.25 | -13.90% |
| 60005 | $15,275,524.62 | $13,171,234.64 | -$2,104,289.98 | -13.78% |
| 60712 | $12,108,964.56 | $10,467,345.30 | -$1,641,619.26 | -13.56% |
| 60091 | $8,787,079.41 | $7,602,339.35 | -$1,184,740.06 | -13.48% |
| 60008 | $14,227,184.13 | $12,316,368.01 | -$1,910,816.12 | -13.43% |
| 60546 | $20,886,676.07 | $18,115,042.52 | -$2,771,633.55 | -13.27% |
| 60068 | $9,215,406.15 | $7,998,049.98 | -$1,217,356.17 | -13.21% |
| 60126 | $35,329,364.17 | $30,774,461.34 | -$4,554,902.83 | -12.89% |
| 60659 | $13,369,129.06 | $11,655,815.73 | -$1,713,313.33 | -12.82% |
| 60521 | $8,569,397.79 | $7,507,556.44 | -$1,061,841.35 | -12.39% |
| 60651 | $7,956,834.32 | $6,972,555.28 | -$984,279.04 | -12.37% |
| 60004 | $22,368,335.51 | $19,635,544.41 | -$2,732,791.10 | -12.22% |
| 60646 | $4,581,560.81 | $4,025,153.68 | -$556,407.13 | -12.14% |
| 60428 | $2,905,561.52 | $2,574,378.31 | -$331,183.21 | -11.40% |
| 60620 | $16,099,715.24 | $14,281,291.38 | -$1,818,423.86 | -11.29% |
| 60624 | $4,673,745.03 | $4,151,423.94 | -$522,321.09 | -11.18% |
| 60107 | $11,165,645.76 | $9,931,748.05 | -$1,233,897.71 | -11.05% |
| 60615 | $8,960,960.50 | $7,982,969.95 | -$977,990.55 | -10.91% |
| 60652 | $10,329,612.90 | $9,204,301.69 | -$1,125,311.21 | -10.89% |
| 60523 | $57,657,594.87 | $51,557,544.00 | -$6,100,050.87 | -10.58% |
| 60070 | $1,555,680.03 | $1,391,615.43 | -$164,064.60 | -10.55% |
| 60623 | $9,586,804.67 | $8,600,974.84 | -$985,829.83 | -10.28% |
| 60007 | $45,959,728.26 | $41,271,094.65 | -$4,688,633.61 | -10.20% |
| 60457 | $4,995,173.55 | $4,498,520.75 | -$496,652.80 | -9.94% |
| 60527 | $22,005,348.18 | $19,835,815.21 | -$2,169,532.97 | -9.86% |
| 60176 | $8,485,961.29 | $7,656,946.30 | -$829,014.99 | -9.77% |
| 60534 | $4,569,967.24 | $4,132,025.99 | -$437,941.25 | -9.58% |
| 60074 | $17,365,872.55 | $15,703,375.50 | -$1,662,497.05 | -9.57% |
| 60026 | $14,739,808.26 | $13,335,590.99 | -$1,404,217.27 | -9.53% |
| 60429 | $2,813,413.46 | $2,548,486.90 | -$264,926.56 | -9.42% |
| 60154 | $3,411,454.01 | $3,092,228.53 | -$319,225.48 | -9.36% |
| 60053 | $13,376,816.05 | $12,126,613.58 | -$1,250,202.47 | -9.35% |
| 60621 | $3,517,395.68 | $3,194,710.48 | -$322,685.20 | -9.17% |
| 60192 | $5,959,025.93 | $5,417,626.45 | -$541,399.48 | -9.09% |
| 60172 | $15,296,723.85 | $13,914,321.40 | -$1,382,402.45 | -9.04% |
| 60656 | $4,257,654.92 | $3,875,840.72 | -$381,814.20 | -8.97% |
| 60193 | $7,703,761.06 | $7,014,905.99 | -$688,855.07 | -8.94% |
| 60302 | $6,510,380.86 | $5,934,824.58 | -$575,556.28 | -8.84% |
| 60629 | $10,847,953.93 | $9,891,652.26 | -$956,301.67 | -8.82% |
| 60120 | $10,492,942.37 | $9,589,346.89 | -$903,595.48 | -8.61% |
| 60477 | $32,958,416.34 | $30,149,972.48 | -$2,808,443.86 | -8.52% |
| 60131 | $8,382,414.15 | $7,672,890.33 | -$709,523.82 | -8.46% |
| 60164 | $13,474,168.57 | $12,341,072.35 | -$1,133,096.22 | -8.41% |
| 60130 | $9,601,282.02 | $8,825,998.45 | -$775,283.57 | -8.07% |
| 60171 | $3,650,536.64 | $3,358,062.87 | -$292,473.77 | -8.01% |
| 60608 | $26,006,957.42 | $23,937,380.95 | -$2,069,576.47 | -7.96% |
| 60439 | $9,624,460.06 | $8,860,347.49 | -$764,112.57 | -7.94% |
| 60093 | $9,872,833.28 | $9,089,817.70 | -$783,015.58 | -7.93% |
| 60459 | $13,010,892.94 | $11,985,208.09 | -$1,025,684.85 | -7.88% |
| 60456 | $655,102.26 | $604,528.56 | -$50,573.70 | -7.72% |
| 60482 | $2,489,100.83 | $2,304,096.08 | -$185,004.75 | -7.43% |
| 60630 | $10,292,240.58 | $9,528,953.62 | -$763,286.96 | -7.42% |
| 60016 | $14,047,010.30 | $13,007,763.20 | -$1,039,247.10 | -7.40% |
| 60463 | $4,022,501.11 | $3,728,148.34 | -$294,352.77 | -7.32% |
| 60465 | $2,987,916.69 | $2,774,408.42 | -$213,508.27 | -7.15% |
| 60609 | $18,709,815.63 | $17,379,322.54 | -$1,330,493.09 | -7.11% |
| 60304 | $1,818,179.26 | $1,690,516.31 | -$127,662.95 | -7.02% |
| 60645 | $3,742,737.75 | $3,482,457.61 | -$260,280.14 | -6.95% |
| 60423 | $17,475,129.82 | $16,290,924.36 | -$1,184,205.46 | -6.78% |
| 60458 | $1,309,906.44 | $1,221,773.48 | -$88,132.96 | -6.73% |
| 60089 | $26,643,040.82 | $24,859,401.97 | -$1,783,638.85 | -6.69% |
| 60194 | $10,960,635.85 | $10,256,409.45 | -$704,226.40 | -6.43% |
| 60015 | $25,281,584.36 | $23,661,930.76 | -$1,619,653.60 | -6.41% |
| 60617 | $9,705,430.86 | $9,095,701.30 | -$609,729.56 | -6.28% |
| 60409 | $16,673,794.14 | $15,636,725.21 | -$1,037,068.93 | -6.22% |
| 60202 | $18,232,799.00 | $17,119,269.45 | -$1,113,529.55 | -6.11% |
| 60443 | $14,231,096.85 | $13,402,653.00 | -$828,443.85 | -5.82% |
| 60525 | $41,427,961.42 | $39,036,846.10 | -$2,391,115.32 | -5.77% |
| 60632 | $20,851,928.78 | $19,677,201.66 | -$1,174,727.12 | -5.63% |
| 60402 | $15,871,337.64 | $14,987,015.86 | -$884,321.78 | -5.57% |
| 60467 | $12,234,654.96 | $11,558,778.69 | -$675,876.27 | -5.52% |
| 60643 | $8,186,476.18 | $7,765,345.22 | -$421,130.96 | -5.14% |
| 60639 | $35,778,809.66 | $34,021,671.91 | -$1,757,137.75 | -4.91% |
| 60618 | $32,407,399.71 | $30,834,245.49 | -$1,573,154.22 | -4.85% |
| 60714 | $45,584,851.03 | $43,405,697.00 | -$2,179,154.03 | -4.78% |
| 60827 | $3,980,860.37 | $3,792,018.47 | -$188,841.90 | -4.74% |
| 60103 | $8,629,407.94 | $8,235,665.05 | -$393,742.89 | -4.56% |
| 60644 | $4,274,249.54 | $4,084,210.81 | -$190,038.73 | -4.45% |
| 60626 | $8,854,104.62 | $8,465,205.64 | -$388,898.98 | -4.39% |
| 60162 | $7,868,390.58 | $7,529,043.57 | -$339,347.01 | -4.31% |
| 60155 | $6,605,498.26 | $6,321,574.23 | -$283,924.03 | -4.30% |
| 60406 | $7,934,441.34 | $7,615,439.46 | -$319,001.88 | -4.02% |
| 60655 | $3,383,472.07 | $3,255,941.25 | -$127,530.82 | -3.77% |
| 60445 | $20,122,623.12 | $19,367,672.49 | -$754,950.63 | -3.75% |
| 60641 | $13,809,138.84 | $13,297,985.81 | -$511,153.03 | -3.70% |
| 60487 | $11,356,182.61 | $10,937,847.90 | -$418,334.71 | -3.68% |
| 60471 | $6,463,693.18 | $6,278,149.03 | -$185,544.15 | -2.87% |
| 60653 | $4,029,768.48 | $3,935,380.76 | -$94,387.72 | -2.34% |
| 60067 | $8,159,018.76 | $7,993,406.24 | -$165,612.52 | -2.03% |
| 60438 | $11,324,171.04 | $11,098,072.22 | -$226,098.82 | -2.00% |
| 60453 | $24,995,813.60 | $24,496,758.73 | -$499,054.87 | -2.00% |
| 60478 | $4,580,066.13 | $4,494,476.21 | -$85,589.92 | -1.87% |
| 60803 | $14,644,579.20 | $14,416,802.15 | -$227,777.05 | -1.56% |
| 60153 | $5,336,604.01 | $5,258,061.42 | -$78,542.59 | -1.47% |
| 60163 | $723,060.91 | $715,270.66 | -$7,790.25 | -1.08% |
| 60805 | $17,389,904.43 | $17,270,068.93 | -$119,835.50 | -0.69% |
| 60160 | $22,594,282.39 | $22,509,930.26 | -$84,352.13 | -0.37% |
| 60056 | $32,468,755.02 | $32,412,992.82 | -$55,762.20 | -0.17% |
| 60411 | $11,936,986.89 | $11,953,528.49 | $16,541.60 | 0.14% |
| 60558 | $2,062,252.55 | $2,067,629.16 | $5,376.61 | 0.26% |
| 60804 | $29,017,151.53 | $29,104,348.08 | $87,196.55 | 0.30% |
| 60476 | $1,086,301.84 | $1,098,269.23 | $11,967.39 | 1.10% |
| 60452 | $6,758,797.13 | $6,836,771.98 | $77,974.85 | 1.15% |
| 60455 | $20,067,396.68 | $20,341,057.76 | $273,661.08 | 1.36% |
| 60025 | $43,150,199.44 | $43,805,128.13 | $654,928.69 | 1.52% |
| 60076 | $11,540,837.43 | $11,729,542.24 | $188,704.81 | 1.64% |
| 60628 | $7,875,148.52 | $8,010,670.02 | $135,521.50 | 1.72% |
| 60430 | $16,869,977.31 | $17,210,853.47 | $340,876.16 | 2.02% |
| 60649 | $6,445,556.56 | $6,596,555.70 | $150,999.14 | 2.34% |
| 60472 | $239,271.18 | $244,956.51 | $5,685.33 | 2.38% |
| 60104 | $4,164,582.35 | $4,303,358.25 | $138,775.90 | 3.33% |
| 60707 | $16,763,395.87 | $17,361,191.69 | $597,795.82 | 3.57% |
| 60636 | $5,784,277.83 | $6,019,749.92 | $235,472.09 | 4.07% |
| 60422 | $2,151,435.24 | $2,251,221.95 | $99,786.71 | 4.64% |
| 60461 | $2,973,593.33 | $3,201,109.52 | $227,516.19 | 7.65% |
| 60526 | $2,695,455.72 | $2,939,530.55 | $244,074.83 | 9.06% |
| 60419 | $5,472,663.17 | $6,080,123.56 | $607,460.39 | 11.10% |
| 60633 | $1,211,118.64 | $1,356,668.74 | $145,550.10 | 12.02% |
| 60133 | $32,739,226.73 | $37,335,455.80 | $4,596,229.07 | 14.04% |
| 60043 | $192,200.28 | $239,459.67 | $47,259.39 | 24.59% |
| 60469 | $1,333,731.13 | $1,667,834.24 | $334,103.11 | 25.05% |
| 60484 | $188,019.35 | $293,939.50 | $105,920.15 | 56.33% |
| 60418 | $990,850.90 | $1,892,368.67 | $901,517.77 | 90.98% |
| 60029 | No Data | No Data | No Data | No Data |
| 60082 | No Data | No Data | No Data | No Data |
| 60141 | No Data | No Data | No Data | No Data |
| 60208 | No Data | No Data | No Data | No Data |
Illinois Department of Revenue
---