Over 1,000 victims, 126 dead, just 2 convictions: 6 years of mass shootings in Chicago
Despite the skyrocketing number of shootings wounding four or more people in the city, the Chicago Police Department's chief of detectives said solving the cases isn't prioritized over other shootings.
Just before dusk on a muggy night in late June, an SUV crept toward a crowd waiting outside a fast food joint on an otherwise quiet commercial strip in South Shore.
A hail of gunfire followed, striking six people before the shooter was whisked away in the passing vehicle.
"They knew who they were looking for," remarked one person at the scene in the 2000 block of East 71st Street, where fresh blood spatters painted the sidewalk.
While police say the shooters were targeting members of a rival gang, 23-year-old Kristina Grimes — a bystander apparently caught in the fray — was the only one killed, her body riddled with six bullets.
About two hours after the shots rang out, an alarming dispatch pierced through police radio: Another mass shooting had just rocked the Marquette Park neighborhood, roughly six miles away.
Three alleged gang members had sprayed bullets at a crowd hanging out in the 6200 block of South Artesian Avenue, enjoying the summer night. Twelve people were hit, among them Nyoka Bowie, 37, who suffered a fatal gunshot wound to her chest. Like Grimes and many other victims of mass shootings — defined by the Sun-Times and some researchers as incidents in which four or more people are wounded — she apparently was not the intended target.
In both cases, there was a large number of witnesses and surviving victims, yet no arrests have been made. That is all too common in Chicago, where police say they do not prioritize the cases despite the especially harsh toll such shootings have on a community.
Only one person has been charged in any of the at least 39 mass shootings so far this year, according to a Sun-Times analysis of city data and court records.
That amounts to charges in just 2% of this year's mass shootings — far below the police department's dismal 13% clearance rate for shootings overall, which is the lowest of any big city in the nation.
Going back to 2016, the alleged shooters have been charged in just 21 of at least 212 mass shooting incidents — or less than 10% of the cases, the Sun-Times analysis found.
Just two men have been convicted in those attacks, which through Friday night have wounded 1,032 people, 126 of them fatally, records show. Two of the other 21 people who have been charged were ultimately found not guilty, while another suspected shooter had his case dropped, records show.
Mass shooting stats and charging info
| Year | Shootings | Wounded | Fatalities | Charging Info |
| --- | --- | --- | --- | --- |
| 2016 | 37 | 163 | 21 | 2 charged in shootings (cases ongoing), 1 charged in connection (pled guilty) |
| 2017 | 29 | 135 | 28 | 7 charged in shootings (1 case dropped, 2 pled guilty, 4 ongoing) |
| 2018 | 29 | 139 | 16 | 5 charged in shootings (2 not guilty, 3 ongoing), 1 charged in connection (pled guilty) |
| 2019 | 30 | 148 | 12 | 3 charged in shootings (all ongoing), 6 charged in connection, including 1 charged separately in a shooting (1 pled guilty, 2 dropped, 3 ongoing) |
| 2020 | 48 | 233 | 25 | 5 charged in shootings (all ongoing), 4 charged in connection (1 stricken, 3 ongoing) |
| 2021 | 39 | 214 | 24 | 1 charged in shootings (ongoing), 1 charged in connection (ongoing) |
| All | 212 | 1032 | 126 | 23 charged in shootings (1 dropped, 2 pled guilty, 2 not guilty, 18 ongoing), 13 charged in connection (1 stricken, 2 dropped, 3 pled guilty, 7 ongoing) |
Source: Sun-Times analysis of city data and court records
The lack of charges this year is all the more ominous because the number of mass shootings far outpaces each of the last five years, according to the Sun-Times analysis.
This year's toll through the end of July already surpasses the total number of mass shootings recorded each year between 2016 and 2019, records show. In each of the last two years there were five attacks in which more than 10 people were shot, including a pair of shootings that each wounded 15 people.
The lack of justice in the cases leaves the most reckless shooters out on the streets — and gives neighborhood residents all the more reason to look over their shoulder as many emerge from pandemic lockdowns.
"Go to the parks on the South and West sides on a beautiful day, and you'll see it. There's hardly anyone there," said Steve Gates, a social worker who works in the Roseland and West Pullman neighborhoods for Chicago Beyond. "These are our public spaces, where we should gather. But people have to feel safe."
"It's just gone cold. I don't even think they're looking," a friend said of the police investigation into the murder of Nyoka Bowie
A month after Bowie was killed, her friend Sameka Scaife said she doubts the police will ever find the gunmen responsible. "It's like waiting for something that you know will never come," Scaife said.
"It's just gone cold. I don't even think they're looking," she said of the investigation. "I believe the police know which gang is responsible for the shooting and that's all. I trust the intel, but I don't trust they'll follow up and find out who did it."

The daughter of a retired Chicago cop, Scaife said she's lost all trust in the criminal justice system. Disillusioned by the lack of charges in Bowie's killings, she has now abandoned her plans to follow in her father's footsteps and pursue a career in law enforcement.
"I don't see anything changing with the city of Chicago," said Scaife, who left her hometown years ago due to the pervasive crime. "It's almost like the police are stepping back and letting everybody kill each other. It breaks my heart so much."
Police: Mass shootings not prioritized over other cases
Chicago's total number of mass shootings in the past five years is more than double that of the next closest city, according to the Gun Violence Archive, a nonprofit research group that catalogs shootings in the United States.
But the mass shootings here rarely resemble the typically more planned attacks that prompt national media attention, outrage and calls for gun control, like the Columbine High School massacre in Colorado or the Pulse nightclub shooting in Florida. Instead, Chicago's mass shootings are usually sporadic street crimes that center around large outdoor gatherings, making the summer months particularly dangerous.
In an interview, Chief of Detectives Brendan Deenihan said many of the mass shootings in Chicago appear to stem from disputes or arguments, though he acknowledged some are clearly gang-related. Despite the increasing number of mass-victim events, Deenihan said they aren't prioritized over other shootings.
"The detectives who are assigned to a mass shooting, and then if they're assigned a shooting later on that week, they're doing the same thing in order to solve that incident," he said. "There aren't any other different tools."
He acknowledged, however, that investigating a mass shooting requires an "extraordinary" amount of time and more resources than other shootings. Detectives have to interview far more people, both victims and witnesses, and forensic technicians are needed to process sprawling crime scenes, often littered with dozens of bullets.
"It is a lot more work, but I just kind of defer to the detectives and the forensic guys and the beat guys who are out there," he said. "Everybody is working as hard as they possibly can."
Police reports obtained by the Sun-Times, though, reflect what appears to show different levels of police response and community cooperation in the incidents.
In a shooting at 4 a.m. June 6 that wounded eight in the 8900 block of South Cottage Grove, the narrative consisted of a handful of sentences with virtually no details.
"All victims related to r/o's [responding officers] they heard gun fire and then felt pain. Not offender information was given to r/o's by victims. Unknown witnesses related to r/o's that they observed two male 1s shooting towards the crowd then fleeing in a silver sedan towards an unknown direction," the report states.
Nine officers' names are listed on the report.
Can't see this police report? Click here.
In Chatham, multiple police officers were already on the scene helping disperse a large crowd when the shooting started on 75th Street in the early hours of June 12, said Marlon Mitchell, owner of Frances' Lounge, a popular bar just a door down from where the shootings took place.
Footage from the bar's surveillance camera — which Mitchell turned over to police — shows officers dispersing a crowd of hundreds, issuing tickets and towing illegally parked cars. The camera also shows the two gunmen pulling on masks in an alley east of the bar before bursting into the crowd. Police reports show that cops had a fairly detailed description of the shooters' clothes, the make and model of the vehicle they drove off in and the direction in which they fled.
Police told community members they have suspects in the shooting, which killed a mother of three and injured nine others, but so far have announced no arrests.
"I don't know what else they could do," said Mitchell, who estimated dozens of officers eventually arrived at the scene. "Police were already here when [the shooters] popped out."
Can't see this police report? Click here.
Crimes hard to solve, experts say
Experts agree urban mass shootings like the ones that take place in Chicago are among the hardest cases to solve.
Clearance rates have been falling across the country since the 1980s. And Mark Bryant, executive director of the Gun Violence Archive, noted that most mass shootings in other cities also go unsolved.
Tom Scott, a social scientist who has studied clearance rates and investigative practices across the U.S., said shootings where no one is killed — even when multiple people are wounded — tend to get less attention from police because murders are the most closely tracked crime statistic by the media and politicians. (In more than 60% of the 212 mass shootings recorded in Chicago since 2016, no one was killed.)
Mass shootings, he added, tend to lack "solvability factors," including cooperative witnesses.
"Agencies ... prioritize cases they are most likely to solve," Scott said.
Yet law enforcement tends to respond to spiking violence by adding beat cops instead of detectives.
More robust investigations where officers make concerted efforts to find and interview witnesses can help foster the community trust needed to get more cooperation, Scott and other experts believe.
The Chicago Police Department's efforts to crack cases have long been hampered by its strained relationship with the communities ravaged by gun violence, areas that have been over-policed and are predominantly Black and Hispanic. In those areas, fear of gangs and distrust of police has created an atmosphere that discourages cooperation, or snitching, striking fear in residents who may otherwise help investigators.
Deenihan, the chief of detectives, also noted the lack of cooperation from the "intended targets" of the shootings. Supt. David Brown asserted the culture of silence effectively perpetuates a cycle of violence and emboldens those carrying it out.
"People are not cooperating who are victims, which signals to us, 'We want revenge, and we don't want police solving this case because we want revenge, we want to retaliate,'" Brown said during a news conference on July 22, a day after three mass shootings within a four-hour span left two teens dead and at least 17 others wounded.
"That signals to us, when you don't cooperate, when you are silent, that you prefer street justice," Brown added. "Street justice is never-ending. The appetite for revenge is never satisfied. It only harms. It only ruins your community."
Mass shootings traumatize residents of entire neighborhoods who either witness them, are victims or are related to the victims, said Sonya Dinizulu, a psychiatrist at the University of Chicago School of Medicine who has studied trauma.
"People say that communities 'get used to' this level of violence, that these shootings don't faze them after a while," Dinizulu said. "That is simply not the case, and we do not say that about sexual assault, or about car crashes or all other sorts of trauma.
"But the body remembers. People still have a physiological response, they have post-traumatic stress, and it is very difficult to heal that when the trauma repeats and repeats."
Indeed, it fosters feelings of hopelessness and depression in young people, which lends itself to the kind of recklessness that might lead to firing into a group of people, heedless of innocents among them, Dinizulu said. That same hopelessness weighs on those who don't become violent, and entire communities fray when residents are too wary to attend large gatherings or even be outside, she said.
"It's a cycle. A very destructive and dangerous cycle," she said. "We focus so much on healing. I think it's surprising, encouraging, that people are focused on healing. But we know the drivers of violent crime — poverty, disinvestment, lack of educational opportunity — and we have to focus and invest in those as well."
More guns — and more powerful guns — recovered
Experts agree with police officials that another factor is more directly driving the spike in mass shootings: More guns — and more firearms that are high-powered — have flooded the streets.
Chicago police have recovered at least 7,289 total guns this year, up from 5,668 at the same point last year. The number of recovered assault weapons has climbed more dramatically over that same period, from 227 to 368.
Statewide, the number of guns recovered steadily rose from 11,568 in 2014 to 15,486 in 2019, the last year of publicly available data compiled by the U.S. Bureau of Alcohol, Tobacco, Firearms and Explosives. More than half were pulled off the streets of Chicago.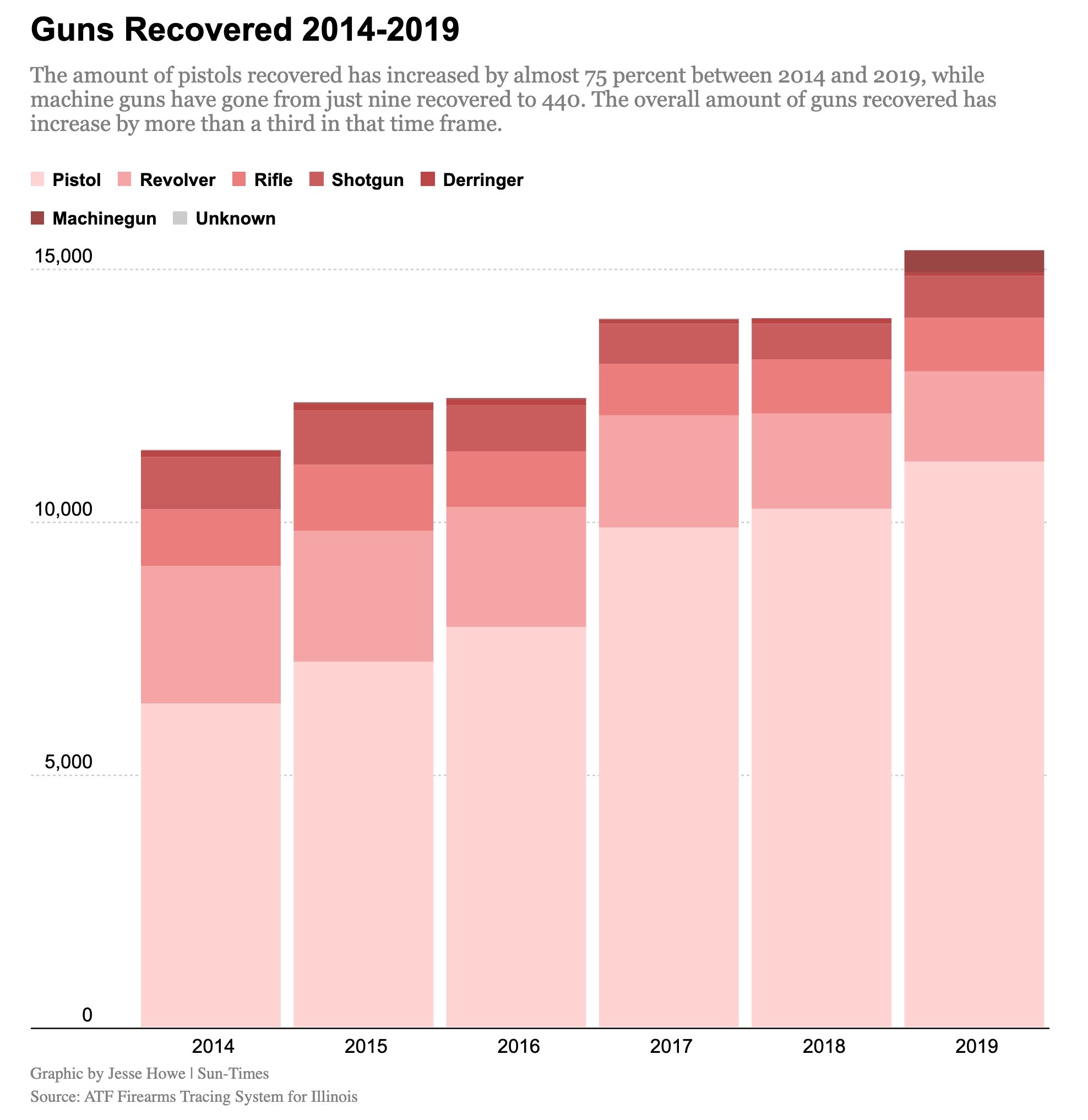 Among all those weapons, the number of high-powered, rapid-firing rifles has skyrocketed. There were an average of 18 "machine guns" recovered each year between 2014 and 2018. That number spiked to 440 in 2019 — and the following year the number of mass shootings jumped to 48.
Deenihan said shell casings from handguns have been found at every crime scene where a mass shooting took place, while rifles have been used in just under half of the crimes. In many cases, people in crowds have returned fire — leading to more victims, he said.
Cops investigating mass shootings are also finding extended magazines and switches, which can make semi-automatic pistols fully automatic.
"It's remarkable firepower," Deenihan said. "But it also is the fact that when you have that many people — 100, 150 people, 200 people out there — and somebody's firing a gun, the likelihood of somebody catching one of those bullets goes up dramatically."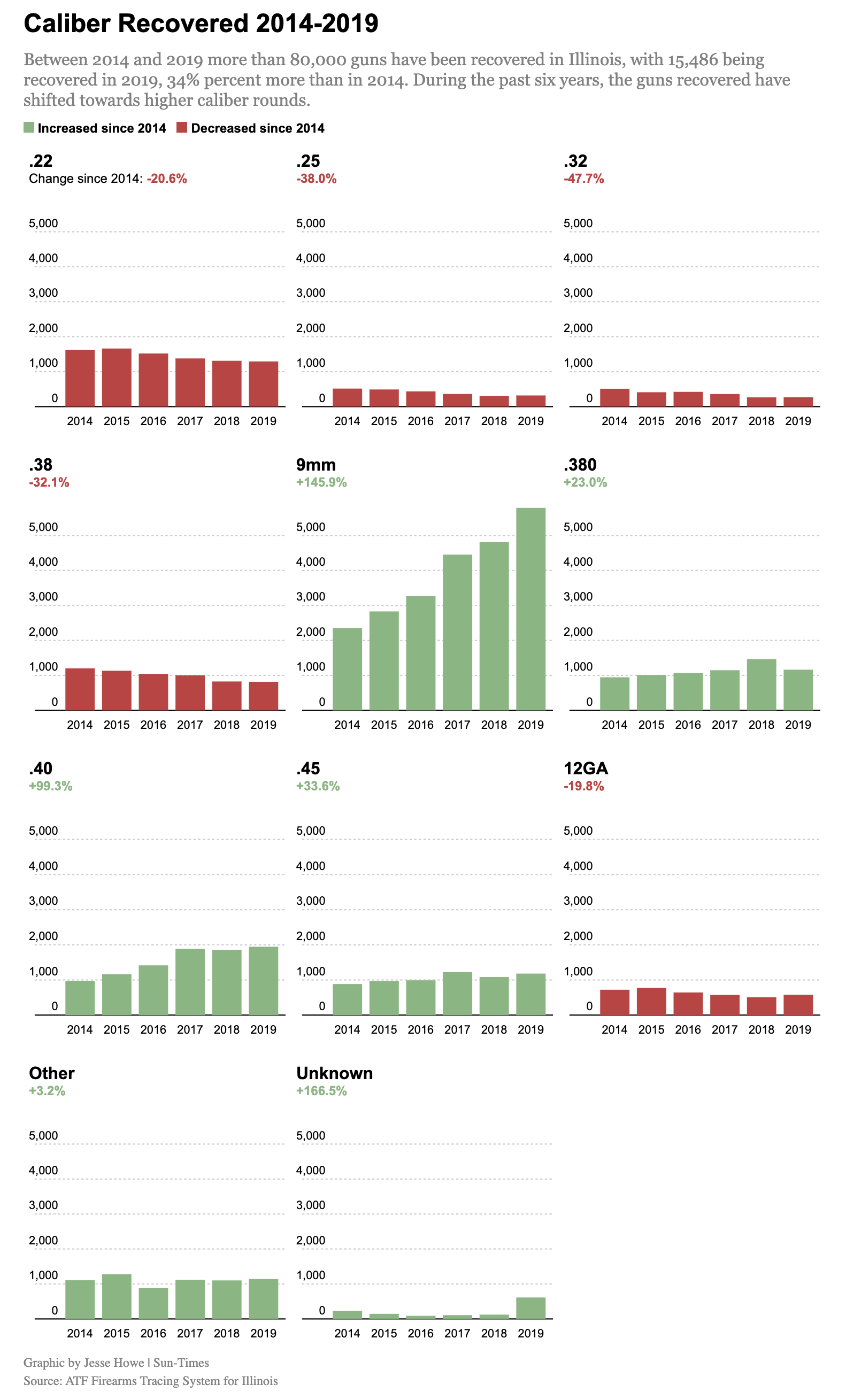 Roseanna Ander, executive director of the University of Chicago Crime Lab, specifically noted that more people in Chicago are toting semiautomatic weapons that can hold high-capacity magazines, raising "the likelihood that you're going to have multiple victims and that the injuries are going to be more serious."
Mayor Lori Lightfoot last month lauded a federal initiative aimed at disrupting interstate pipelines for firearms, and her administration has recently launched new efforts to combat the city's gun problem.
She announced a $1 million reward fund last month for information leading to the seizure of illegal firearms. And since then, a new police team of roughly 50 officers was announced to target gun traffickers and people whose state firearm permits have been revoked.
Will tougher enforcement help?
When Kristina Grimes was slain in the mass shooting in South Shore earlier this summer, her mother Cynthia Carr felt like she had to do something to keep other innocent people from dying.
Grimes, once a standout high school swimmer who dreamed of making it to the Olympics, was apparently on her way to get something to eat when she was fatally shot. "No one knew her. She didn't know them. She was totally caught off guard and just didn't see it coming," her mother said.
She and her husband, Grimes' stepfather Michael Carr, now want elected officials to get behind measures like implementing stricter bail requirements for some offenders and embracing controversial stop-and-frisk policies. In recent weeks, the grieving mother has started reaching out to policymakers, including members of the Legislative Black Caucus and the state's two U.S. senators.
"I don't believe the political will exists to deal with the problem as is," Michael Carr said. "And there's going to have to be some tough solutions and acknowledgment about who's committing the vast majority of these shootings. And just even saying that will bring howl and outrage among the activist groups."
A West Side native, Michael Carr was raised near the notorious Rockwell Gardens housing project in East Garfield Park. Fed up with the violence, he left Chicago in his mid-20s, vowing never to return. He and his wife, also a Chicago native, now live in suburban Romeoville and fear for the safety of family members in the city.
While they're critical of the city's leadership and deeply concerned about its violent crime, the Carrs said they sympathize with detectives who they believe are inundated with cases.
"How is it humanly possible for a detective to investigate a crime if they have to keep shifting to another crime?" Cynthia Carr asked.
As for the two cases where police made arrests that led to convictions, both took place in 2017 and wounded five people.
Dejuan Moore, now 23, was charged in an attack in South Austin that June. And Kriston Gordon, 29, was charged in a shooting at a West Rogers Park bar early on New Year's Eve, records show.
They were both hit with multiple charges, including counts of attempted murder, but each pleaded guilty to aggravated battery. Moore was given 10 years in prison, while Gordon got six — relatively light sentences for such brazen shootings.
But enforcing stricter punishments likely won't do much to decrease violence in the long run, said Linda Teplin, a Northwestern University psychiatrist who has studied urban violence. Mass shootings that take place in suburbs, like Columbine, draw massive attention and drive the national debate on gun laws, but the events themselves are less predictable and are often the acts of isolated, lone-wolf shooters with no criminal records.
But in Chicago and other cities, mass shooters fit a narrower profile: They're mostly young black males involved in gangs who will have contact with the criminal justice system.
"The irony is, urban violence is more preventable, but we don't invest the funds," Teplin said. "What is needed is economic investment, jobs, access to educational opportunities, therapy. We know what needs to be done, but we won't invest the funds."
Contributing: Jesse Howe, Andy Boyle, Madeline Kenney, Sophie Sherry
Morning Edition
Get more of our award-winning local news and political coverage sent directly to your inbox every morning by signing up for our Morning Edition newsletter.