Paycheck Protection Plan paid off for Illinois banks; see which of them got the most money
They got $1.5 billion in fees for handling the federal PPP loans. BMO Harris topped the list — at least $232 million in fees — helping it have 'a good quarter' in early 2021.
Illinois banks issued 239,000 loans under the federal Paycheck Protection Program worth $29 billion to businesses affected by the coronavirus pandemic — and collected at least $1.5 billion in fees ultimately paid by taxpayers, a Chicago Sun-Times analysis finds.
Chicago-based BMO Harris Bank got the most money in fees: at least $232 million for handling 34,000 loans that totaled $6 billion that the banking company's top executive has said contributed heavily to "a good" first quarter of 2021.
BMO Harris's PPP loans ranged from just $133 to the maximum amount allowed under the program — $10 million.
The 360 banks with headquarters in Illinois made loans through the program to businesses in all 50 states and four U.S. territories.
Illinois ranked 10th among states for total fees and seventh for dollars provided in the loans, which did not need to be repaid as long as businesses spent all of the money to keep employees on the payroll and pay rent and utilities.
Seven of the top 10 banks are owned by publicly traded companies.
That's all based on the Sun-Times' analysis of federal Small Business Administration data that also showed Illinois banks' average fee of 5.29% ranked in the bottom 10 nationwide on a list topped by New Jersey, where bank fees averaged 11.6%.
The bulk of the federally guaranteed loans made by Illinois banks — 191,000 of them — went to businesses in-state and provided banks with $1.1 billion in fees. The rest of the loans, totaling $365 million, was split among all other states and territories as far as Guam.
<!— partial —>
The banking industry says America got its money's worth by paying banks for processing applications and getting cash quickly into business owners' hands.
But some say it would have been smarter to cut out the banker-middlemen, as some European countries did with direct-payment programs for businesses to keep workers on the payroll.
"Was it a critically important program? Yes. Could it have been designed better? Yes," says Sarah Crozier, spokeswoman for Main Street Alliance, a Washington-based network of 30,000 U.S. small business owners.
The Paycheck Protection Program was quickly put together and launched in April 2020 after the COVID-19 pandemic shut down businesses and threatened mass unemployment. Congress said it designed the program to keep small businesses afloat and workers off the unemployment rolls, initially allocating $342 billion in forgivable loans. Much of that money was snapped up by franchises and large, publicly traded companies.
Later expansions of the program have specifically targeted the mom-and-pop businesses and sole proprietorships that many thought originally were going to be the beneficiaries of the loans.
As of March 31, $739 billion has been handed out nationally to millions of companies by about 4,000 banks in loans that are almost entirely expected to be forgiven, that is, not to be required to be repaid — plus $48 billion in fees to lending institutions.
The Sun-Times is among the businesses that got PPP loans: one, in April 2020, for $2.7 million and a second, last month, for $2 million.
The rules set by the federal government have fluctuated, but banks generally could charge 1% on the largest loans, 3% to 5% on smaller ones and fees no higher than $2,500 on loans of less than $50,000. The government — not the borrower — pays the fees.
After BMO Harris, the Illinois bank that's taken in the greatest amount in fees is First Midwest Bank, which has collected about one-third of what BMO Harris has gotten.
None of Illinois' top fee-getting banks would make executives available to speak about the millions in taxpayer money their institutions got.
In February, speaking with investors, David R. Casper, BMO Harris's chief executive officer, said that, despite the pandemic, the first months of 2021 for its U.S.-based banks were "a good quarter. About one-third of that was the PPP."
Spokesman Patrick O'Herlihy says BMO Harris had 600 employees processing the loans and points to the new digital platforms they used but won't talk about what the loans meant to the company's bottom line or what its costs were for handling them.
O'Herlihy says BMO Harris followed the rules set by the SBA, and that "frankly we were very proud we helped so many customers get the money."
Moira Dolehide, a spokeswoman for Chicago-based Byline Bank, which was another top fee-generator at $45 million on $946 million in PPP loans, says its costs for staff, software and documentation were "not insignificant," declining to provide figures.
With the federal government guaranteeing the loans, risks were low to banks unless they made errors or fell victim to fraud, Dolehide says.
She says it's too soon to know how profitable the fees were for the bank "since we are still in the midst of the forgiveness process for loans made during the first round of the program in 2020. Our motivation to participate in the program was driven by wanting to help and support small business customers during the pandemic and take advantage of the program."
Champaign-based First Busey Corp. told the federal Securities and Exchange Commission it incurred $5.1 million in "incremental direct origination costs" on the $25.4 million it collected in PPP fees last year.
On an earnings call Wednesday with investors, First Midwest Bancorp, based in Chicago, reported that it expects most of its PPP loan balances to be forgiven and repaid by the end of the year.
According to Michael L. Scudder, First Midwest's chairman and chief executive officer, the banking company "had a solid start to the year as our overall performance improved as the economic recovery gains traction."
Main Street Alliance's Crozier says a better alternative to the way the PPP loans were handled might have been for the Treasury Department to have given the money as grants instead of forgivable loans — similar to the individual coronavirus stimulus checks that many individual Americans received.
One flaw with the PPP program that Crozier and others have cited is that many Black- and Brown-owned businesses and businesses owned by women didn't have the banking connections needed to get a loan.
The program tried to give banks an incentive to process smaller loans by raising the fee percentage. Still, a 1% fee on a big loan pays banks far more than a 5% fee on a tiny loan would.
"There's still a bit of an outsized, warped incentivization," Crozier says. "Those who needed larger loan amounts were catered to and got their money faster."
BANK FEES FOR PPP LOANS
Banks issuing PPP loans across the U.S. collect a processing fee, typically as a percentage of the loan amount or a flat rate of $2,500 for smaller loans. In total, U.S. banks have earned roughly $48.7 billion in processing fees from April 3, 2020, through March 31, 2021.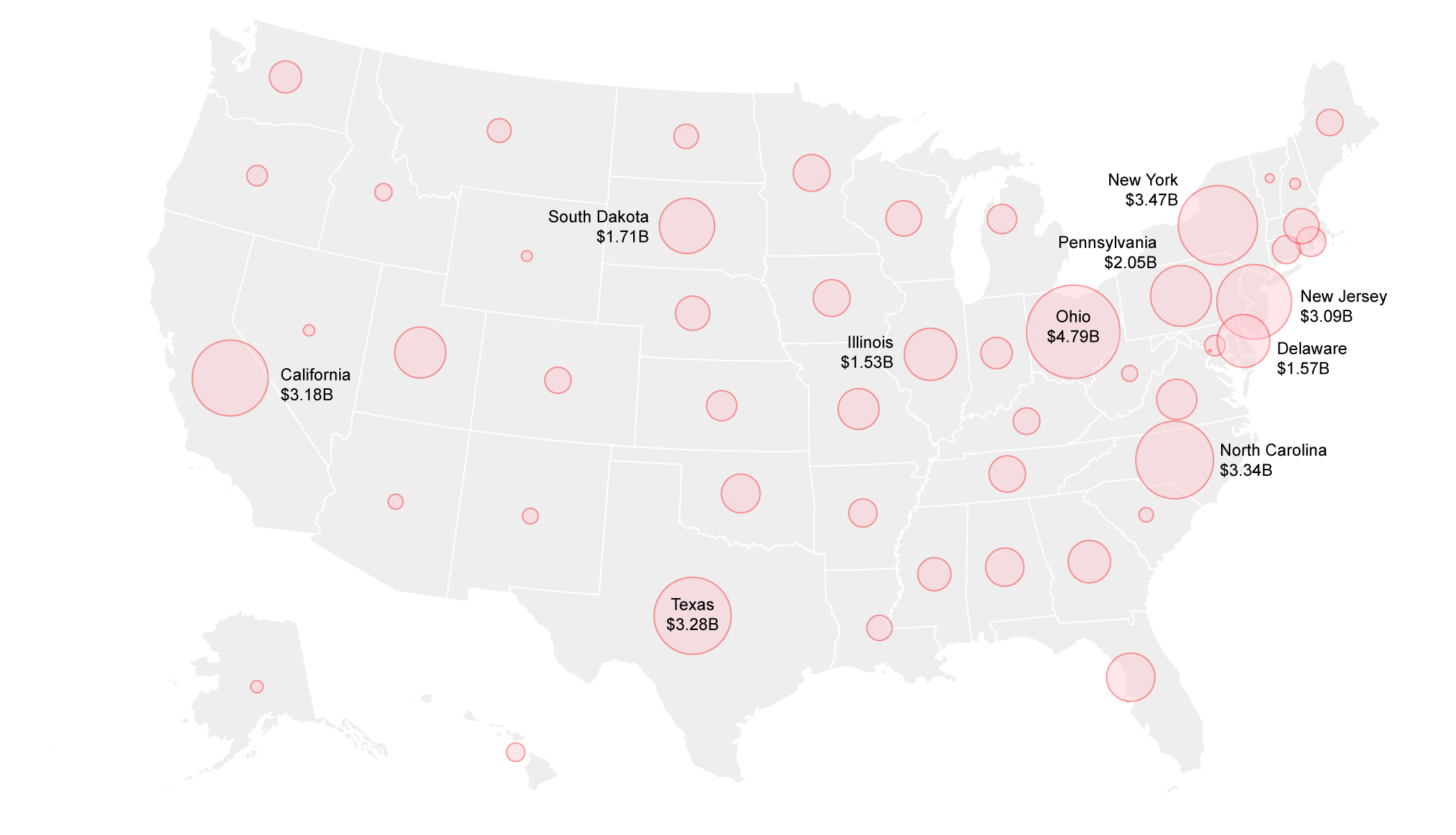 The banking industry points to the on-the-fly nature of the program, which had banks scrambling to set up application procedures, communicate with customers and quickly make loans.
The financial industry was a better vehicle for handling all of that than the SBA, which doesn't have enough staffing to do that, would be, according to the American Bankers Association.
"This program was never about fees but about supporting the economy," says Ian McKendry, a spokesman for the banking trade and lobby group. "In many cases, banks had to redirect staff from other more profitable lines of business and reconfigure their systems to accommodate PPP demand. The fees banks earned ... were often lower than traditional SBA lending programs. By any fair measure, bank participation in PPP saved millions of small business jobs and helped the economy weather the pandemic."
But it's still "striking," says Dimitris Papanikolaou, a finance professor at Northwestern University's Kellogg School of Management, that, "out of the money that went to PPP, a huge chunk of it went to bank fees.
"Why is it so expensive to provide stimulus?" Papanikolaou says. "That's because a lot of other people get a cut."
Contributing: Jesse Howe